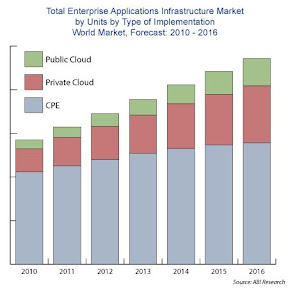 Telecommunications infrastructure is the latest enterprise asset to begin the move to cloud-based solutions. And over the next five years ABI Research predicts a mass migration of enterprise communications applications to the cloud.Premises-based communications and telecommunications capabilities including email, telephony, as well as audio-, video- and Web-conferencing, are steadily shifting to cloud-based solutions, according to ABI Research, which predicts that 41 percent of all enterprise communications application users worldwide will migrate to the cloud by 2016.
"The communications customers-premises equipment [CPE] market will only be growing at a 4.3 percent rate, while cloud communications will be growing at over 21 percent, reaching $8 billion in revenues by 2016," said ABI senior analyst Subha Rama.
The migration trend for enterprise applications infrastructure will steadily shift from customer premises equipment (CPE) to private and public cloud-based solutions, according to ABI Research.
Driving the CPE-to-cloud migration trend, according to ABI Research, is the general adoption of data center-based virtualization technologies, the need to offer a "connected experience" to mobile users of smartphones and tablets, and the potential of lower costs and higher efficiencies for cloud-based solutions.
CPE vendors will feel the squeeze the most, according to ABI Research, as their customer base slowly erodes in favor of public-, private- and hybrid-cloud solutions. Within five years, CPE will have lost 386 million users to virtual infrastructure solutions, with the drain steadily increasing as enterprises gain more confidence in migrating information and communications technology (ICT) to the cloud.
Many enterprises are hesitant to make major investments in the transition to cloud infrastructure, according to ABI Research, which explains that extending the lifetime of legacy CPE solutions will continue as long as the cost of transitioning to the cloud remains relatively high. But as the price tag drops, the cloud transition will accelerate in direct proportion.
According to ABI Research, cloud technology is acknowledged as increasing business agility through infrastructure consolidation, but the difficulties of managing security, exposure and integration with existing infrastructure will favor a steady, orderly transition rather than a quick switch. For the time being, hybrid approaches that allow legacy systems to continue to be useful will dominate, especially for large enterprises that face considerable investment costs to make the transition.
Smaller CPE vendors will feel the squeeze the most, according to ABI Research, since larger CPE vendors are already transitioning their own telecommunications capabilities to the cloud, potentially offsetting their losses to newer cloud-only vendors. The vendors expected to do best will be those that make the cloud transition seamless and without performance penalties, according to ABI's report titled: "Enterprise Cloud Applications and Vertical Analysis."
Further Reading