Business process management software combined with services-oriented architecture (SOA) infrastructure applications are gaining traction at major enterprises worldwide.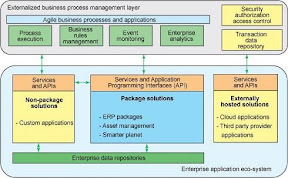 Efficient management of business processes boosts efficiency, reduces costs and uncovers new ways to grow businesses. Business process management (BPM) software realigns all aspects of an enterprise towards meeting the needs and wants of its clients. By promoting efficiency at all levels, combined with innovations, flexibility and integration of operations with the latest technologies, BPM today is behind the success of the world's most successful enterprises.
At the upcoming Gartner Business Process Management Summit (April 25-27, Baltimore, Md.), market analysts will detail the gains in business process management software in 2011, after reporting a 10 percent gain in the previous year. One reason for BPM's recent boost can be traced to reports last year, from the Tech CEO Council, that business process waste in Fortune 500 companies topped $480 billion per year. The public sector lost even more, $1.3 trillion, according to the McKinsey & Company Government Reform Report.
Externalized BPM layer and package solutions provide the software building blocks to enable agile applications and business processes.
Many vendors are serving the BPM market, including Pegasystems, TIBCO Software and IBM. Pegasystems' software is a specialized BPM-only solution similar to other offerings as a so-called "pure play" software vendor. TIBCO Software also has a Java-based application using its proprietary ActiveMatrix platform that integrates BPM with services oriented architecture (SOA) infrastructures. IBM's Business Process Management suite, as well, has been one of the prime movers behind SOA integration with BPM since its inception.
According to the market research firm WinterGreen Research, integrated SOA and BPM offerings can boost all three areas identified as crucial to business success. These areas are the use of analytics to gain needed intelligence, changing internal business processes to take advantage of that intelligence, and optimizing infrastructure to deliver the new processes and services in the most efficient manner possible.
IBM's Business Process Management suite (based on its WebSphere) is also connected with a dedicated BPM Services practice that enables IBM's consultants in its Global Business Solutions and Software to share their successful methodologies with new BPM users. IBM's combined BPM software and services are based on its Method for Business Process Optimization that offers "starter kits" already preassembled for the banking, health care and telecommunications industries, today, with more "industry packs" on the way in 2012.
Other auxiliary software is also gaining traction when use with BPM, including software-as-a-service (SaaS) suites like IBM's Blueworks Live--which increases visibility into business processes and communication in an enterprise. Also IBM's Business Monitor aims to increase real-time operational visibility with improved analytics and reporting based on Cognos Business Intelligence. Cognos BI, which received an upgrade in 2011, has added features for collaboration, statistical analysis, social networking, "active" reporting and support for mobile devices including Apple's iPhone and iPads, as well as BlackBerry devices, Symbian phones and Windows Mobile devices.