As populations age worldwide, cloud-based health services manage the care of the elderly, whether at home or at assisted-care residential communities.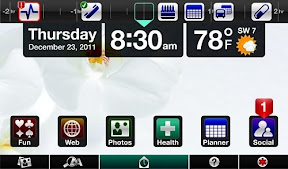 Almost 12 percent of Americans are more than 65 years old, and even higher percentages of the elderly prevail in countries like Japan, South Korea and the United Kingdom. To improve the quality of life for elderly persons living at home and in assisted-living residential centers, cloud-computing services are taking over the management of their complicated treatment regimes with fun-to-use dashboards that encourage the elderly to lead active, socially connected lives.
Elderly patients can enjoy an active healthful life using cloud-based dashboards that remind them to take their meds, keep their appointments, periodically measure their metabolic rates, and interact with their caregivers and loved ones.
At the Digital Health Summit at this week's Consumer Electronics Show, cloud-based services were demonstrated that serve our rapidly aging populations with dashboard apps running on PCs, tablets, smartphones and, for the first time, on the professional televisions already installed in assisted-care centers worldwide. In particular, at CES 2012, Independa announced its integrated CloudCare Solutions would be extending its healthful dashboard apps to smart TVs made by Zenith (owned by LG) to provide the industry's first suite of TV-based eldercare cloud services.
Based on Independa's Angela cloud-based dashboard app, patients can now access their daily health advisory information from their iPhone, iPad, or Zenith/LG's Pro:Centric commercial televisions (the same TVs that serve up movies and local information to hotel guests), which are already installed in many senior residential centers nationwide.
Angela reminds patients when to take their meds, when to do their physical exercises, when to take their blood pressure or measure their glucose levels, and so forth. Plus the dashboard reminds patients of medical appointments, lets them have video conferences with care givers, and encourages them to lead an active life with games, photo-sharing services and social-media access for keeping in touch with loved ones. The simple icon-based user-interface requires no prior computer knowledge to conduct video calls, share photos and access email--all of which work without having to perform mouse-based operations like pulling-down menus or navigating file systems.
Angela is one dimension of Independa's CloudCare platform that also supports comprehensive social-engagement benefits, the activities of daily living, and wireless health/safety monitoring. For instance, CloudCare's Artemis app allows installed sensors to monitor home conditions, personal activity, and vital signs, including heart rate, blood pressure, pulse oximetrics, glucose level, weight and body temperature. Also, a wearable panic button can automatically detect and report falls even if the patent is unconscious.
Elderly patients can maintain their accounts with Independa as they move from their residence to a retirement community, then later to an assisted-living facility, all the while using the same dashboard interface to all of Independa's integrated CloudCare services.