Cloud servers are on track to become the fastest-growing and most important segment of the server market by 2015.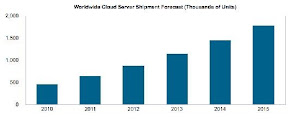 Cloud server sales will almost double in 2012 compared to 2010 and are on track to become the fastest-growing segment of servers by 2015 when units will again double to 1,774,000 units. (Source: IHS iSuppli)
Cloud server sales will double in 2012, compared to 2010, and will double again by 2015, as a result of the stellar success of cloud-based consumer services from Apple, Amazon, Google and other industry powerhouses.
Cloud servers, which supply services to smartphones, tablets, laptops and desktop computers, are on track to become the most important segment of the server market, according to IHS iSuppli, which predicts that cloud server shipments will reach 875,000 units in 2012, up 35 percent from 647,000 in 2011, and nearly double the 460,000 cloud servers sold in 2010.
Consumer services such as Apple iCloud and the exploding diversity of software-, platform- and infrastructure-as-a-service business models, are driving a skyrocketing demand for cloud servers. Over the next three years, growth rates will be between 23 percent and 30 percent, ultimately doubling the consumption of cloud servers over 2012 to more than 1,774,000 units by 2015, according to iSuppli. This will make cloud servers the fastest-growing segment of the server industry.
Overall, the five-year compound annual growth rate for cloud servers is destined to become five-times greater than the server market as a whole, more than 30 percent compared to 6 percent. And while total shipments of cloud servers were just 5 percent of the total server market in 2010, it will grow to more than 15 percent by 2015.
"The cloud can be deployed as software, platform or infrastructure to help keep information technology costs down," said Peter Lin, senior analyst and author of IHS iSuppli's Compute Platforms report. "Benefits are many, including higher utilization of server devices, low capital expenditure for clients, high scalability and access to the service across multiple devices."
Cloud servers are constructed and configured differently from ordinary servers, according to IHS iSuppli. Providers value ease-of-maintenance, expandability and reliability over performance. The physical footprint is also a key ingredient, with cloud servers typically using a single, highly condensed rack-optimized blade form-factor with a single motherboard to incorporate the processors, memory and network interface. Also key to cloud servers is easy upgradability, higher energy efficiency and low cost.
Additionally, cloud servers are increasingly being supplied by original design manufacturers (such as Quanta Computer) which customize the architecture and manufacturing details for each customer. And on the horizon are white-box server-direct makers that could eventually displace original equipment manufacturers (OEMs), original design manufacturers (ODMs) and value-added resellers (VARs) alike.